LICENSED, BONDED, INSURED, AND PRAISED!
WHY CHOOSE MAID BRIGADE HOUSECLEANING SERVICE?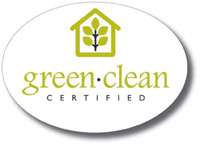 This Maid Brigade office is proud to be a Maid Brigade Green Clean Certified office! Maid Brigade developed a Green Cleaning system to respond to the growing evidence that traditional cleaning methods do not promote a healthy home or a healthy environment. We've achieved our certification and have "gone green" to protect the health and well-being of you and your family. For more information, please click on the Green Clean logo to the left, or call our office.
Certified Green House Cleaning Service: Maid Brigade is committed to the health and well-being of our customers. So we've developed our exclusive residential Green Clean Certified™ service with you in mind. Green cleaning is defined as the use of effective cleaning products, equipment and procedures that don't endanger you, your children, your pets or the environment.
Trustworthiness: The most beneficial development of our longevity is that we hire almost exclusively by referral. Recommendations of employees having a vital stake in our stellar reputation make all the difference. Of course, we still conduct background checks before hiring as part of our recruiting, screening, and selection processes. Our on-site supervisor and team concept further contribute to trustworthiness. We have earned the most trusted name in the business by respecting your privacy, your property, and your time.
Reliability: Our clients rely on us to clean the very day we say we will. We've eliminated excuses, apart from power outages, epidemics, and snowstorms. We provide company cars and have spares. We're deeply staffed and generally maintain excess labor capacity for any given workday, with the exception of some Fridays and Holiday rushes.
Quality of the Cleaning: Our business is all about training. And measuring. The quality control cards that our clients complete let us know areas of concern as well as personnel of excellence. In addition to the pre-deployment training of new employees, we have ongoing training early every Tuesday, for all of our cleaning personnel. We also equip them with state-of-the-art 4-stage filtration HEPA vacuum cleaners that retain 99.7% of particles 3/10th of a micron or larger. There are no dust storms when we vacuum.
Third-party evaluator, ValueStar, interviewed a statistically significant sampling of our clients and, based on their affirming responses, awarded us the coveted Certification for Very High Customer Satisfaction, their highest rating!
Service Beyond The Cleaning: Our phones are answered live from 8 to 5, Monday-Friday, by our pleasant customer service staff, not by an outside answering service or warbling answering machine. If you prefer, you can contact us via e-mail at your convenience and we'll get back to you in less than 24 business hours. Caveat: Voicemail is activated from 12:30-1:30 each Thursday so that our entire office staff can meet and discuss ways to improve our services to clients.
OUR PROMISE
A PROMISE MORE VALUABLE THAN A MERE GUARANTEE
The Maid Brigade standard for customer service sets us apart from ordinary residential cleaning services. Our commitment to providing sparkling customer service is both a system and an ethic.
Our Promises:
We will monitor our reliability.
We will supervise our consistency.
We will pay strict attention to the security of your belongings.
We will solicit your comments and suggestions and be responsive to you.
We will dispatch a prompt re-clean if we ever miss something.
We will continually make you glad you chose Maid Brigade.
BASIC TASKS - GENERAL
Vacuum Floor Surfaces
Vacuum Furniture in Family Room
Clean Sliding Glass Doors (one set included with Standard Cleaning)
Remove Cobwebs
Dust Windowsills and Baseboards
Spot Clean Light Switch Plates
Make Beds
Tidy Rooms
Dust All Furnishings and Decorative Items within Reach
Dust Ceiling Fans within Reach
Dust Window Blinds
Empty Trash
KITCHEN
Clean & Sanitize All Countertops
Clean & Sanitize Sink and Faucets
Clean Outside of All Appliances
Clean Inside of Microwave
Spot Clean Cabinet Exteriors
Wipe Off Table and Chairs
Dust Baseboards
Clean Floor
BATHROOM(S):
Clean & Sanitize Counter and Sink
Clean & Sanitize Shower and Tub
Clean & Sanitize Toilet
Shine Mirrors and Chrome
Vacuum and Sanitize Floor
Dust Light Fixtures within Reach
Dust Baseboards
Spot Clean Cabinet Exteriors
Fold Towels
Spot Clean Walls
Call our Live Customer Service at 888-709-7573 • Monday through Friday, 8:00 am – 5:00 pm
or visit www.MaidBrigade.com, enter your zip code in our location search box,
and see which office serves your area.
Thank you for choosing Maid Brigade.